Go to:
 *note: please omit the "www." before the site address; if you are still having problems accessing the site, try in another browser
Explore the website! More updates are being made to it frequently
Duty Days:
Go to the "Members" tab on the top menu and select "Sign Up For Duty Days"

This will take you to the sign-up genius page to sign up! Instructions to sign up are listed here.
Here, simply select "sign-up" on the day you would like to patrol and select your location. If you will be the hill lead, enter it in the comments. You will be prompted to enter your email.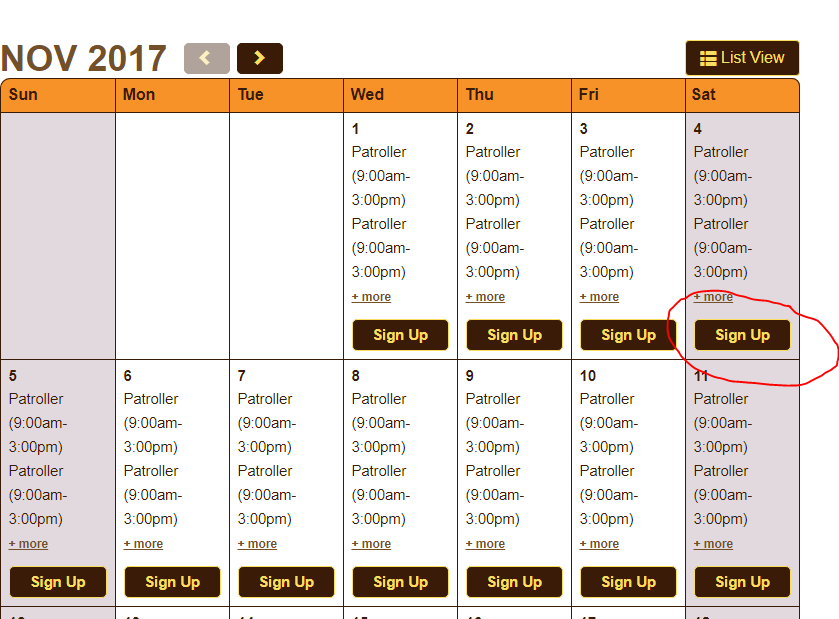 Sign-Up genius will send you a CONFIRMATION EMAIL! From this email you can cancel or change days you signed up for. You will also get a reminder email a couple of days before you are signed up.
Important Documents
In order to view important/useful documents such as Brainard/Forest Service agreements and info on how to access the cache, etc., go to the "Members" tab, hover over "Resource Library" and select "Front Range Backcountry Patrol Resources"
The documents are password protected and the password is the old standard. Email bryanmountainnsp@gmail.com if you are a member and need the password.
From here you can select and view or download any documents you'd like
Calendar
Can't remember when the next patrol meeting or refresher is? View it on the calendar! Simply select "calendar" from the top menu and you can see everything upcoming and past.
Did you miss a patrol meeting? You can view the meeting minutes via the calendar event OR by selecting "news" from the calendar tab.
Mobile
You can do all of this from a mobile device! (even viewing documents when you are on the go).
Any questions, feel free to email me at our fancy new gmail associated with the website, bryanmountainnsp@gmail.com, and I will work to solve all of your problems as quickly as I can, or at least try for a bit and then reach out to someone with more website brains than myself. Cheers, Kelly